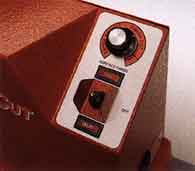 #1 Control Panel is positioned to provide easy access and view of disc/drum selector switch and feed speed control knob.






#2 Turning Flywheels is a snap. Versatile heavy duty drum boring bar makes machining drums and flywheels quick and easy.






#3 Depth of Cut is simple to set using adjustable "zero" features on knobs and handwheels. Graduations are shown in millimeters and inches.